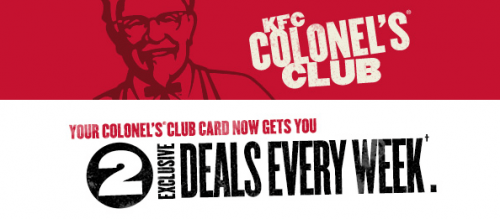 KFC Canada has rolled out two hot new deals for the KFC Colonel's Club which will be available to take advantage of up until February 15th, 2015. The two offers they have going on right now are applicable for you whether you're eating for one, or feeding the whole family.
The first one is being marketed as the 'Family Meal Deal', where you can receive 20% off on any feast (both original and variety buckets included). This deal really would be best to use on larger orders, and whether your large order is being spent on watching a sports games with your buddies, or feeding a houseful of ravenous children after their long week of soccer and hockey practises, in the end you'll still be saving money.
The second offer that KFC is running in the Colonel Club this week is probably best catered towards single servings, for the nights when you just can't gather the energy to turn on the oven (hey, it happens!). The 'Individual Meal Deal' will give you an entire Big Box meal for just $7.99 (plus applicable taxes).
To become a member of the Colonel's Club, you will first have to download the app on either Google Play or the iTunes store, after which you will begin reaching deals instantly – all of which is free might I add. To redeem your coupons, you will simply have to present them to an employee at a participating KFC on your smart phone and your savings will automatically be applied.
Click here to check out this week's deals from KFC Colonel's Club.