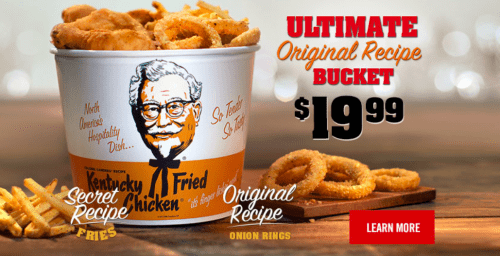 KFC Canada has recently released some new downloadable coupons that will save you on all your KFC favourites! Simply head online, select your province, and you could download a set of PDF coupons that will get you some delicious deals this fall!
Coupons include:
$5.99 for Zinger or Big Crunch Combo
$5.99 for 3-pieces of Chicken and Individual Fries
$6.99 for 4-pieces Chicken and Individual Fries
$7.99 for Ultimate 4 Pieces Box Meal
$19.99 for 12 piece Fries and Gravy
$18.99 for Favourites Bucket
$17.99 for a 9 piece Family Special
$24.99 for a 14 piece Family Special
$29.99 for a 18 piece Family Special
These coupons expire October 4, 2015. Offers and prices may vary by province. To get your coupons, simply select your province from the drop down menu and download the PDF coupons.