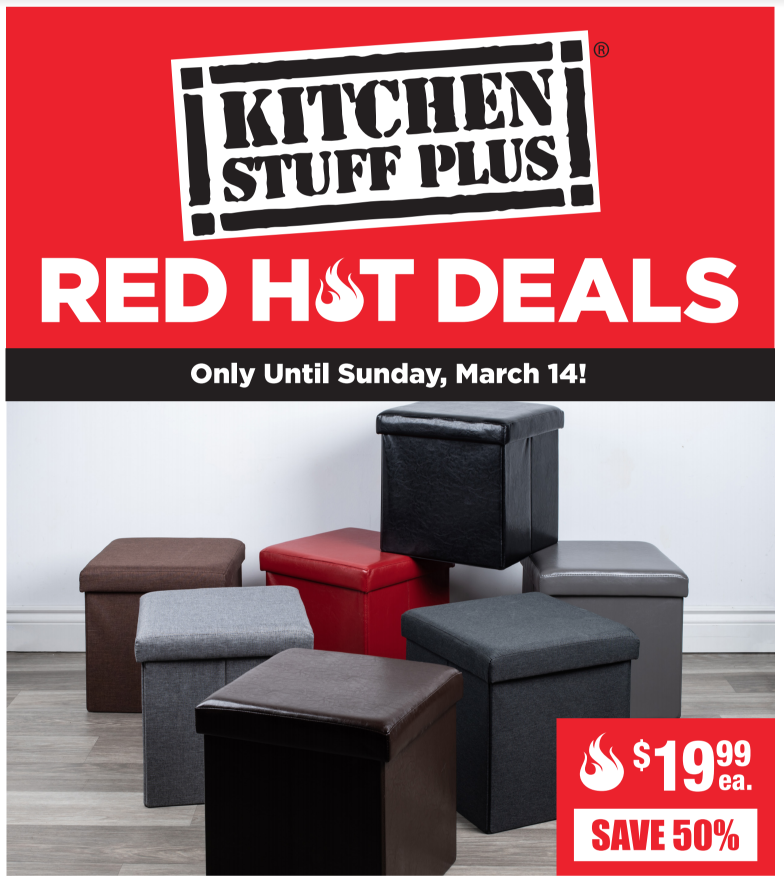 Kitchen Stuff Plus Canada has released its new weekly Red 🔥 Hot Deals and they are super indeed! This week the deals include:
Save 50% on Sit Collapsible Fabric Storage Ottoman, for $19.99
Save 50% on Black + Decker Fusion Blade Digital
Blender, for $49.99
Save 50% on 5 Pc. Harman Well Kept Micro Fibre
Dish Dry Mat & Cloth Set, for $7.49
Save 50% on Verra Glass Digital Bathroom Scale, for $9.99.
Save 40% on Softstor Fabric Shoe Cabinet, for $17.99.
Save 40% on Plateau Digital Kitchen Scale, for $19.99
Save 33% on Eco Triple Step Garbage Can – 60L, for $99.99.
Save 33% on Oster Whip Immersion Blender, for $39.99
Save 33% on 1Starfrit Personal Blender Set, for $29.99
 and more
These Kitchen Stuff Plus deals are valid now, until March 14, 2021.
Kitchen Stuff Plus Canada offers FREE shipping on all online orders of $75 or more.
Click here to view Kitchen Stuff Plus Canada's latest flyers deals.