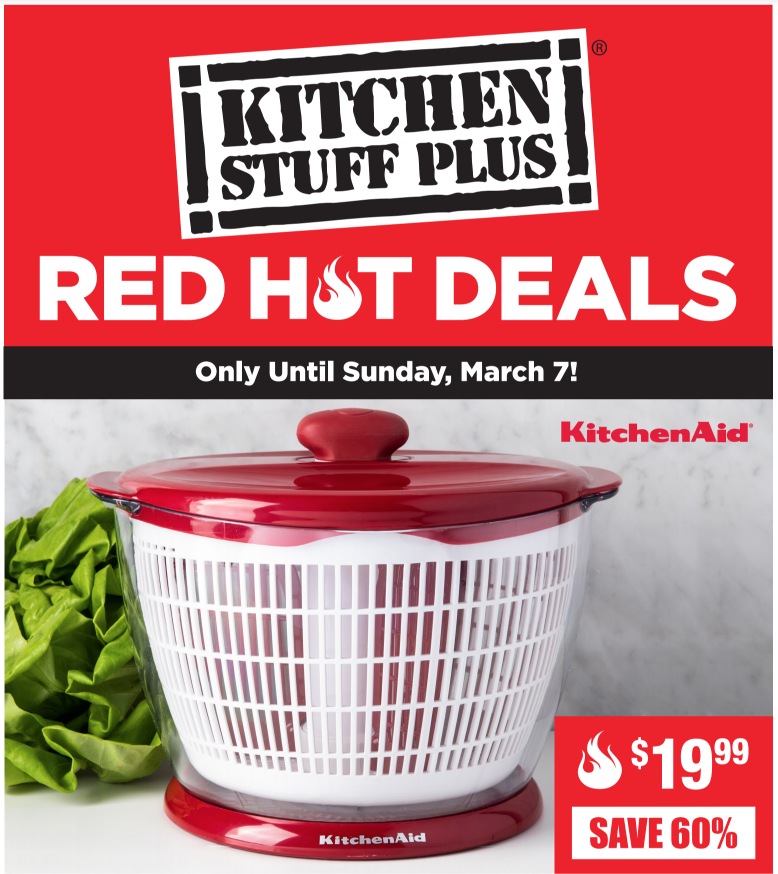 Kitchen Stuff Plus Canada has released its new weekly Red 🔥 Hot Deals and they are super indeed! This week the deals include:
Save 60% on KitchenAid Gourmet Salad Spinner, for $19.99
Save 60% on 15 Pc. Farberware Stainless Stamped
Wood Knife Block Set, for $49.99
Save 55% on Kona Glass Dining Table, for $199.99
Save 50% onPlateau Fabric Shoe Rack, for $8.99.
Save 50% on Cole Bonded Leather Dining Chair, for $74.99.
Save 44% on As Seen On TV Elite Power Digital Low Fat Air Fryer, for $99.99
Save 40% on Avanti Over-the-Sink Dish Rack, for $23.99.
Save 40% on Chefman Cordless Jug Kettle – 1.7 L, for $29.99
Save 40% on 10 Pc. Clip It Glass Storage Container, for $14.99
Save 40% on Express Mandoline Slicer "All-In-1", for $17.99
Save 40% on easy Chop Manual Food Processor & Chopper, for $14.99
 and more
These Kitchen Stuff Plus deals are valid now, until March 8, 2021.
Kitchen Stuff Plus Canada offers FREE shipping on all online orders of $75 or more.
Click here to view Kitchen Stuff Plus Canada's latest flyers deals.