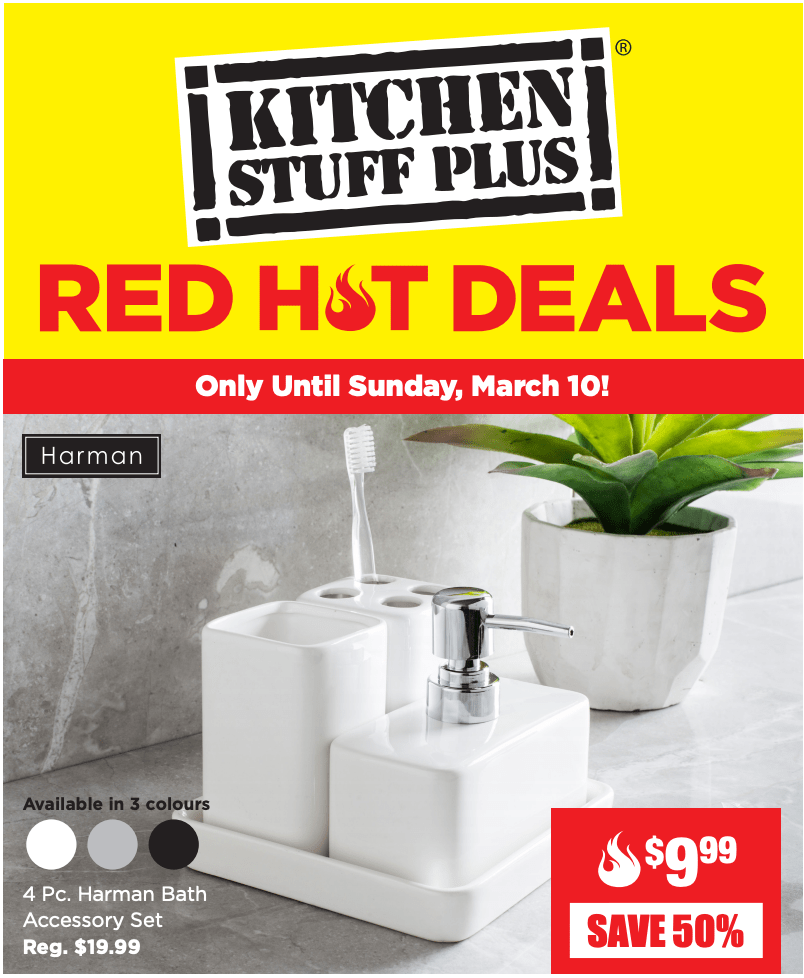 Kitchen Stuff Plus Canada has released their new weekly Red 🔥 Hot Deals and they are super indeed! This week the deals include:
Save 60% on 10 Pc. Cooks' Club Cookware Set, for $119.99
Save 50% on 4 Pc. Harman Bath Accessory Set, for $9.99.
Save 50% on 6 Pc. Pro Chef Mixing Bowl Set, for $12.49
Save 50% on Cuisinart Food Processor, for $74.99
Save 50% onChefman Slow Cooker, for $19.99
Save 40% onChefman Mini Food Chopper, for $14.99
Save 40% onRussell Hobbs Kettle, for $47.99
Save 40% onToby Shoe Cabinet, for $59.99
Save 40% onViva Tension Bathtub Corner Shelf, for $44.99
Save 40% onOXO Good Grips Bath Shower Mirror, for $14.99
and more
These Kitchen Stuff Plus deals are valid now, until March 10, 2019.
Kitchen Stuff Plus Canada offers FREE shipping on all online orders of $75 or more.
Click here to view Kitchen Stuff Plus' Canada's latest flyers deals.