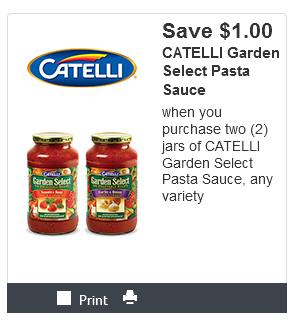 A great new coupon is available through the Kraft Canada What's Cooking printable coupon portal today! This is a rare coupon that you don't often see, for $1 off when you purchase two jars of Catelli Garden Select Pasta Sauce.
I can't comment on this sauce as I have never actually purchased it. I stick with Classico. However, I imagine that any sauce in a jar would be superior to those in a can, so in light of this coupon I may pick some up. With any luck, we will see a $1 sale on this pasta sauce while the coupon is still around, which would make this Catelli pasta sauce 50 cents per jar with the coupon! I re-use my Classico jars for all kinds of things so the sauce plus a jar for 50 cents is a fantastic deal!
If you are not a member of Kraft What's Cooking, you will have to register first to even access the coupon, but this will only take a moment, and there are currently about half a dozen coupons that you can print.
Click here to print your coupon for $1 off the purchase of two jars of Catelli Garden Select pasta sauce through the Kraft What's Cooking coupon portal.