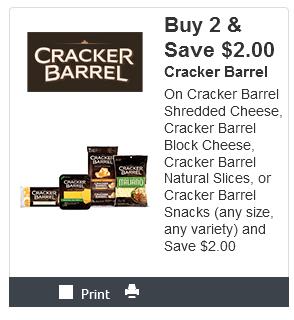 The Kraft Canada What's Cooking coupon portal has recently added a new coupon that you can head over and print by clicking the link below.
Save $2 when you purchase two Cracker Barrel cheese products, including Cracker Barrel Shredded Cheese, Cracker Barrel Block Cheese, Cracker Barrel Natural Slices, or Cracker Barrel Snacks, any size, any variety.
If you do purchase Kraft block cheese, be sure to print this off as it's not very often there is a coupon for the actual block cheese. One of each coupon per account may be printed through the Kraft Canada What's Cooking coupon portal. The coupons for $1 off just the natural cheese and $1 off the shredded cheese are still available to be printed if you are interested in those as well.
Click here to get your coupons for Cracker Barrel cheese products through the Kraft Canada coupon portal.