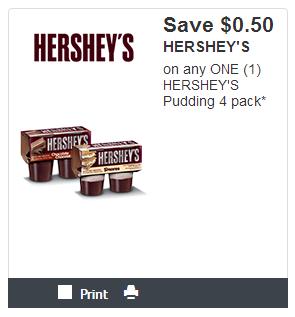 The Kraft Canada coupon portal has a recent addition for a newer product that is no doubt delicious. Save 50 cents on the purchase of any one Hershey's four pack of pudding with this new coupon.
These are refrigerated puddings so keep that in mind when you go looking for them in the grocery store. These are advertised for $3.49 in the Sobey's Ontario flyer this week but I don't really think that's much of a sale price so much as their regular price. These may be regularly priced for less elsewhere, making them a much better deal with the coupon.
To print your coupon you can sign in to your Kraft Canada account and if you do not have one you can take a moment to make one. There are some great coupons that can be found through this portal and they change regularly. Coupons can be printed once per account, but you can have several accounts per computer.
Click here to print your coupon for 50 cents off the purchase of Hershey's pudding through the Kraft Canada coupon portal.