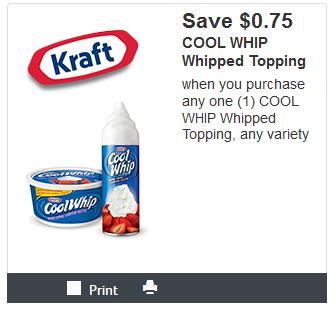 A new coupon is available the the Kraft Canada printable coupon portal this morning. Save $3 on the purchase of any one Cool Whip whipped topping, any variety, with this coupon.
Although I'm not seeing any great sale price on Cool Whip in the flyers for this week, Cool Whip typically goes on sale for the price of $2.99, so you should be able to purchase it for about $2.24 or less with this printed coupon. Gay Lea whipped cream often goes on sale for much less, but Cool Whip has it's own unique flavour and is an ingredient in many delicious summer dessert recipes, and also makes a great fruit dip.
To view the coupons available through the Kraft Canada coupon portal you must first have an account. Register or sign in to your account and you will have access to several coupons. Each can be printed once per account, typically with a limit of two per computer. There are a couple of other coupon currently available at the moment, including coupons for Nabob and Maxwell House Keurig products, Cracker Barrel Shredded Cheese, and Breakfast Bagel Bites. Coupons tend to come and go quickly through this portal so be sure to print any that you would like immediately.
Click here to visit the Kraft Canada coupon portal.