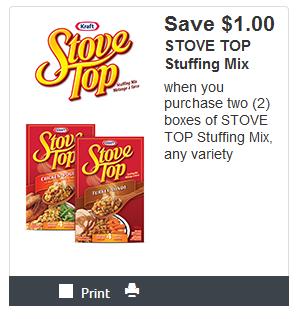 The Kraft Canada portal has just added a couple of new coupons for items that may be on your to buy list for your festive dinners. You can head over to the portal by clicking the link below and signing in, where you will find coupons for 75 cents off the purchase of Cool Whip Topping, and $1 off the purchase of two boxes of Stove Top stuffing mix.
I confess to never having made stuffing from scratch, and relying solely on Stove Top. You can add things like celery, cranberries, and so on and so forth. No one will know it came from a box. Stove Top is currently on sale at Freshco this week for 99 cents, so you can purchase it there or price match, paying 49 cents a box with the coupon. Cool Whip is currently 2/$5 at Superstore Ontario this week, which appears to be the lowest price. Use the coupon and pay $1.75.
Click here to print these coupons from the Kraft Canada What's Cooking coupon portal.