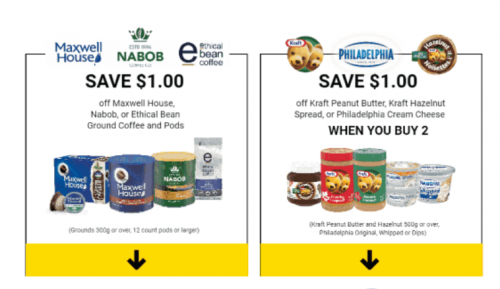 It's been quite some time since Kraft Canada has had printable coupon available, but there is now a new Kraft/WebSaver portal with several new coupons available! Click the link below to print the following coupons:
Save $1 when you buy three Classico Pasta Sauce 410ml or larger
Save $1 on the purchase of Maxwell House, Nabob, or Ethical Bean Ground Coffee and Pods (grounds 300g or over, 12 count pods or larger)
Save $2 on the purchase of a Kraft Dinner 12 pack
Save $1 when you purchase two Kraft Peanut Butter, Kraft Hazelnut Spread, or Philadephia Cream Cheese (Kraft Peanut Butter and Hazelnut 500g or larger, Philadelphia Original, Whipped, or Dips)
If you don't have a printer you also have the option of using the Cashback Coupons instead of the Print Coupons. Select the coupons that you would like and you can add them to your WebSaver Wallet where you can redeem them by uploading your receipt after your purchase.
Click here to get your Kraft coupons!