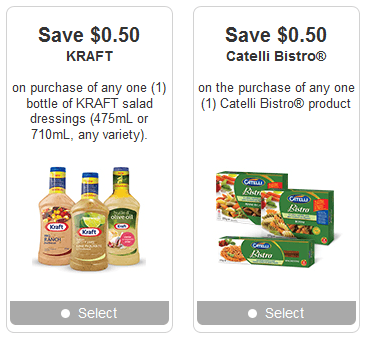 Kraft has added two new coupons to their printable coupon portal.
$0.50 off any Kraft salad dressing (475ml or 710ml)
$0.50 off any Catelli Bistro product
Both of these are often on sale, but the 250ml size of dressing you will find on sale for $1 is excluded from the Kraft Dressing coupon.  Click here to print your coupons.
If you have not printed them previously, you will also find coupons for:
$2 off Nabob 12pk Keurig Pods
$1 off Maxwell House 12pk Keurig Pods
Save $1.25 when you buy Kraft Singles Process Cheese Product (450g-900g) & Campbell's Ready to Serve Soup (540 ml)
Save $1 when you buy two Cool Whip 1L+
$1 off Cracker Barrel shredded cheese