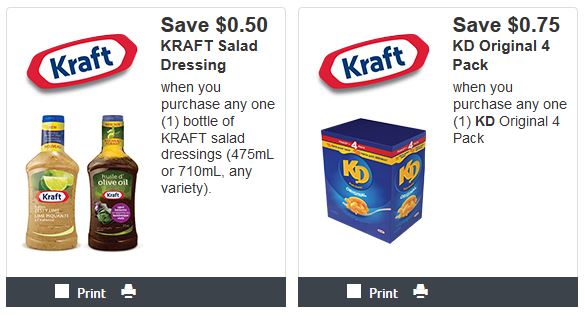 The coupon for $0.75 off the purchase of a four-pack of KD Original is back on Kraft's coupon portal if you missed it the first time.  This went quickly last month, so if you want it, print it now!  These packs are often on sale for $2.99 so while it is possible to get Kraft Dinner for less buying the bigger bulk packs when Food Basics has them for $6 for a 12 pack, you can get them for cheap without waiting for a big sale.
Other coupons available include
Save $0.50 on Kraft Dressing (475ml or 710ml any variety)
Save $0.75 on Kraft All Natural Peanut Butter
Save $0.50 on JELL-O Ready-to Eat Cups
Save $1 on  NABOB Keurig Compatible Pods 12pk
Save $1 on Maxwell House Keurig Compatible Pods
Save $2 when you purchase any three MiO, Crystal Light, Tang, Country Time, Kool-Aid Liquid Concentrates
Save $1 on Cracker Barrel Shreds 320g
Click here to login or signup for the Kraft Coupon Portal and get these coupons.