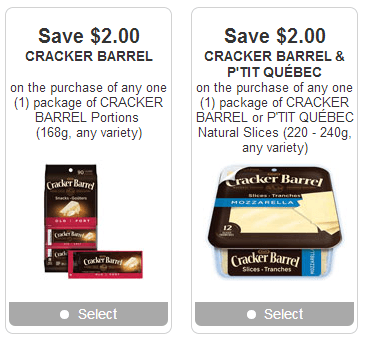 Kraft have added two new coupons to their websaver coupon portal.
Save $2 off Cracker Barrel cheese portions 168g
Save $2 off Cracker Barrel natural cheese slices 220-240g
Click here to get these coupons.  As we saw with the Kraft BBQ Sauce coupon, Kraft's printable coupons can disappear fast so if you want these coupons print them now.  Want an even better deal?  Target have a printable coupon for $2 off when you buy three select Kraft products including the Cracker Barrel slices (you can get that coupon here).  The cheapest I have seen them advertised this week is $5.49 at Sobeys so not a great sale price but you can save by pricematching the other items on the Target Exclusive coupon (Kraft dressing, Bull's Eye BBQ sauce, Miracle Whip spread).