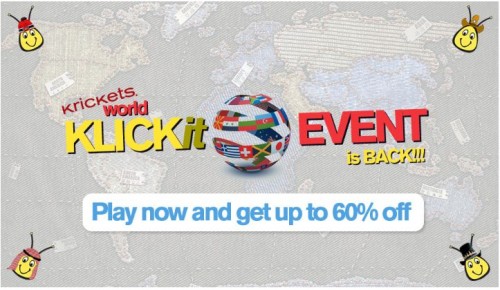 Kricketsworld.ca "Klick it" event is back!
It's easy and fun! Klick for a chance to win up to 60% off your next order.
How to play:
You must be logged in to play. If you already have an account with kricketsworld.com, simply login with your existing username and password. If you don't have an account, you can create one.
• Once logged in, you'll be presented with a map of many different Krickets heads from around the world.
• Simply click on your favourite one and a discount will be revealed.
• Once the discount has been revealed, click where indicated to receive your code.
• Your code can be applied by entering it at step 2 of checkout on your next order.
Restrictions • The coupon will be valid for 1 week from the date issued
• The coupon can only be used once and for the account under which it was given
• The discount applies to regular priced items only.
• You can only participate one time per account. Once you have received a code, you will no longer be issued any further discounts.