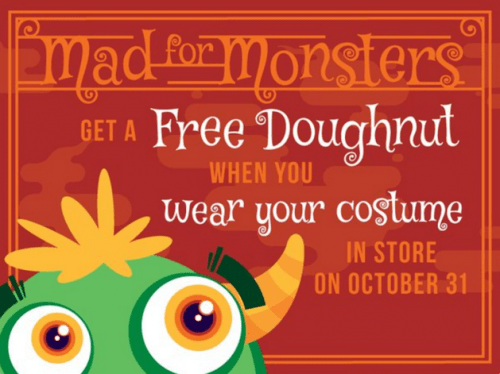 Happy Halloween 🙂 Start your Halloween with a FREE doughnut! Krispy Kreme Canada likes to celebrate Halloween today with you! Wear your Halloween costume and head in to a participating Krispy Kreme Canada and get a FREE doughnut.
There is no purchase required from Krispy Kreme Canada to take your Halloween FREE doughnut. This offer is not limited to just their original doughnuts. The FREE doughnut can be the doughnut of your choice. Limited to one FREE doughnut per customer.
Head into your local Krispy Kreme Canada location today, Saturday, October 31, 2015 to pick up your Halloween FREE doughnut, of any variety! Enjoy 🙂
Click here to find the nearest Krispy Kreme location to you.