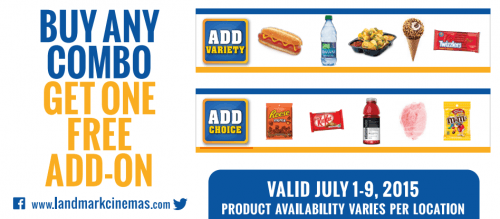 If you are visiting a Landmark Cinemas location over the next week or so, use this coupon for a free add-on when you buy a concession combo. Buy a regular combo (popcorn and drink etc) and choose an add-on including extra drinks, snacks, ice cream candy and more.
While this is not as good as their usual coupons for BOGO admission or $2 off concession combos, it is a good deal if you buy the smaller combo and want to add on something else to munch on during your movie.
This coupon is valid July 1-9 one per person and can be downloaded here.