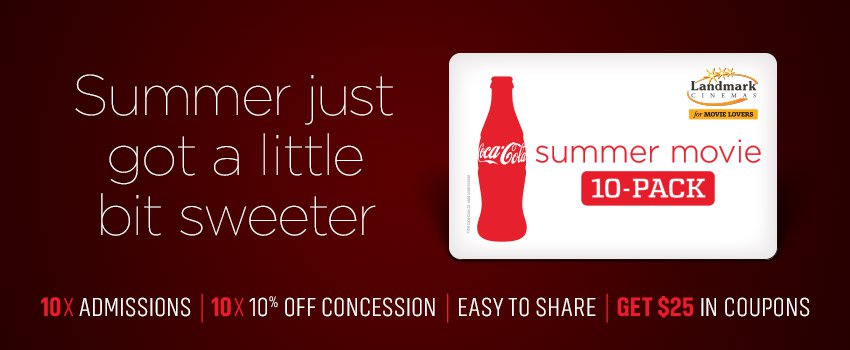 If that sneak peek of warmer weather in Ontario has you longing for summer, time to start stocking up on stuff to keep the kids amused through the holidays too.  Landmark Cinemas Summer Movie 10-Pack deal is already available.  Prices vary by location but to give you an idea of pricing, it was $75 at most locations last year.
You get 10 Admit One tickets, 10 discount vouchers for 10% off your concessions plus $25 in coupons for concessions including
Free medium popcorn with the purchase of a medium Coca Cola drink (x2)
Free tube of M&Ms when you select any Mars candy with your combo
Free medium Coca Cola drink with any medium popcorn purchase
Free Caramilk bar if you select a Maynards candy with your combo
50% off any Snack Pack with the purchase of another combo
Free popcorn seasoning with paid popcorn or combo purchase
The coupons are valid through October 31st.  The 10% off coupons are valid on a transaction and not just a single item and the Admit One tickets are valid for regular movies, a surcharge applies for IMAX, 3D etc.