Shop at Le Chateau Canada Online and In Stores for a limited time to enjoy their new sales promotion! You will be able to Buy One Get One 50% Off on all Le Chateau Canada Outlet Tops. Keep in mind if you shop this deal in stores it must be a Le Chateau Outlet location.
There are some pretty amazing sales deals in the Le Chateau Canada Outlet shop! These prices are already greatly discounted before even applying the BOGO 50% Off offer!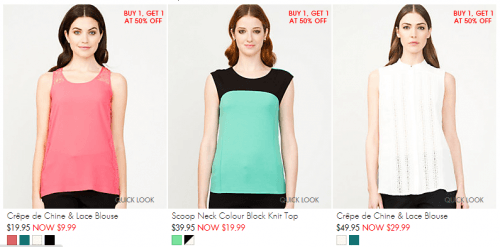 Crepe de Chine and Lace Blouse – was $19.95 – now $9.99
Scoop Neck Colour Black Knit Top – was $39.95 – now $19.99
Crepe de Chine and Lace Blouse White – was $49.95 – now $29.99
and more!
The 50% discount will be applied to the lowest price item at the check out before taxes.
Click here to check out this Sale from Le Chateau Outlet Canada!