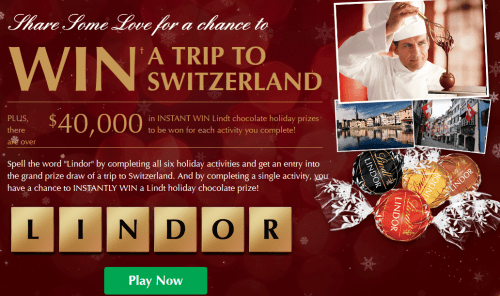 **Our Facebook Follower Rena B. just won a $100 Gift Card Via this Contest!
Lindt Lindor wants to share some love!
Have you always wanted to go on a vacation, but never found yourself have enough extra money? In these times, it is very common that people want to travel but its not feasible for them. Now? Visit Lindt.ca and spell the word "Lindor" by completing all six holiday activities and get an entry into the Grand Prize Draw of a Trip to Switzerland!
You also have a chance to Instantly Win a Lindt Holiday Chocolate upon completion of every single activity trying to spell the word "Lindor". They are giving away over $40,000 in prizes!
You Could Win:
The Grand Prize of: A trip for 2 to enchanting Zurich, Switzerland.
You will spend 6 days strolling down cobble stone paths, exploring Zurich's rich culture and exciting night life. Valued at $10,000.
1 of 100 Gift Cards for Lindt Outlet Boutiques
1 of Over 1000 Milk Chocolate Lindor Bags
Visit Lindt's website here for your chance to win!
P.s. Don't forget that if you do happen to win the Grand Prize, your spouse or best friend won't be upset if you take me with you!