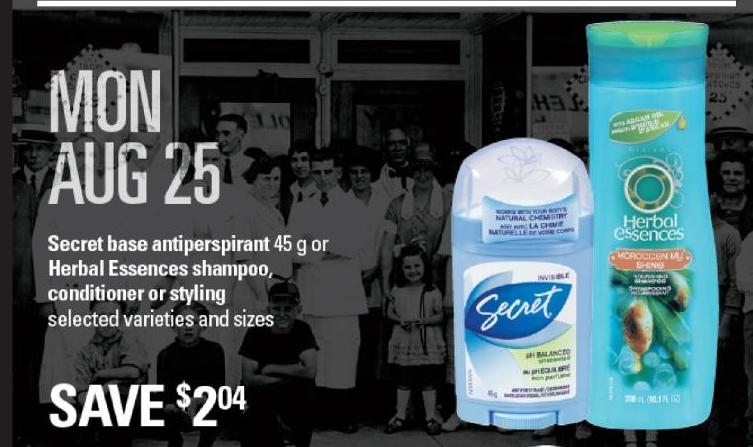 Loblaws Ontario is celebrating 95 years, and they have 95 cent deals every day of the week beginning today, and ending Thursday next week. Monday only, Secret antiperspirant 45g and Herbal Essences shampoo, conditioner, and styling products are only 95 cents. If you still have your Brandsaver coupons, you can use the $1 off Secret and get the deodorant for free! You can also use your $1.50 when you buy two Herbal Essences products, and get them for just 20 cents each.
All of the daily 95 cent deals are as follows:
FRIDAY: Lays Chips 180g (Limit 8)
SATURDAY: Oreo or Chips Ahoy Cookies (Limit 8)
SUNDAY: Pork or Turkey Sausage 150g
MONDAY: Secret Deodorant or Herbal Essences
TUESDAY: Old Mill English Muffins
WEDNESDAY: Royal Gala Apples
THURSDAY: Red Seedless Grapes
Hmmmm, I wonder if anyone was lucky enough to get PC points offers for any of these products? Click here to view the Loblaws Ontario flyer for the week of August the 22nd to the 28th.