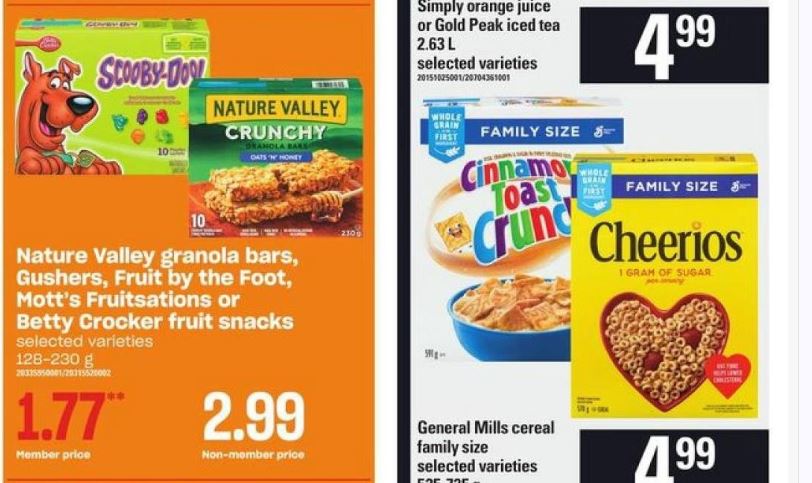 The Loblaws Ontario flyer valid August the 6th to the 12th has several members only offers shown on the first couple of pages. If you are a PC Optimum member you can get these items at a lowered price all week, and no limit is stated on these items in the flyer, however, you may find limits posted in the store. Here are the member prices for this week:
Dove bar soap, body wash, hair care, styling, or women's antiperspirant $1.99 (amazing deal if you have coupons and even better if you have the Dove personal offer!)
PC Cheese Slices $4.99
Nature Valley Granola Bars, Gushers, Fruit by the Foot, Mott's Fruitsations, or Betty Crocker Fruit Snacks $1.77
Silk Non Dairy Refrigerated Beverages $1.99
And here are the PC Optimum offers advertised this week:
3000 points for every $10 spent on Goldfish crackers
2000 points when you buy 4 Crispy Minis
Stampede Burgers $7.99 + 800 PC Optimum points
Ziggy's Salads $3.49 + 500 PC Optimum points
1000 points for every $5 spent on Thirsty Buddha beverages
PC Natural Choice Deli Meat Trio $11.99 + 2000 PC Optimum Points
PC World of Flavours Pork Shoulder Blade $10 + 2000 PC Optimum Points
PC White Cheddar Macaroni 90 cents + 200 PC Optimum Points
PC Organics Frozen Margherita Pizza 2/$14 + 3000 PC Optimum Points
PC Mini Cheese Sticks $5 + 1000 PC Optimum Points
PC Great Canadian Maple Coffee 3000 PC Optimum Points
PC Stainless Steel Bento Box $13.99 + 6000 PC Optimum Points
Click here to view these offers in the flyer.