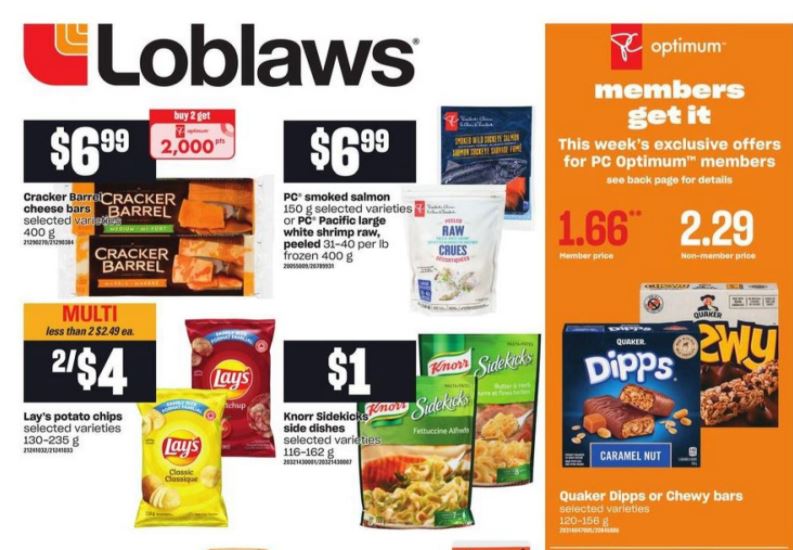 If you are trying to decide which of your PC Optimum offers to save for next week, then you may want to save any that match up with in-store offers next week to maximize your savings. Here are the in-store PC Optimum advertised at Loblaws Ontario for the week of April the 29th to May the 5th. These offers will also be valid at Zehrs, Independent, and Atlantic Superstore.
Quaker Crispy Minis or Rice Cakes $1.79 Member Price
Head & Shoulders, Tresemme Hair Care, or Garnier Belle Hair Colour $3.99 Member Price
Cracker Barrel Cheese Bars $6.99 + 2000 PC Optimum points when you buy two
Quaker Chewy or Dipps $1.66 Member Price
General Mills Jumbo Cereal $6 Member Price
Old El Paso Dinner Kits $2.99 Member Price
1500 PC Optimum points for every $12 spent on Saputo Fresh Cheese Tubs
PC Naan Rounds $2.49 Member Price
3000 PC Optimum points for every $10 spent on Rougemont, Oasis Juice, Del Monte Nectar, Arizona Ice Tea, Oasis Nutrisource, Fruit Drop, or Del Monte Prune Juice
3000 PC Optimum points for every $15 spent on Whiskas, Pedigree, Tempations, Nutro, Iams, Crave, Cesar, or Greenies
Click here to view the flyer on our forum.