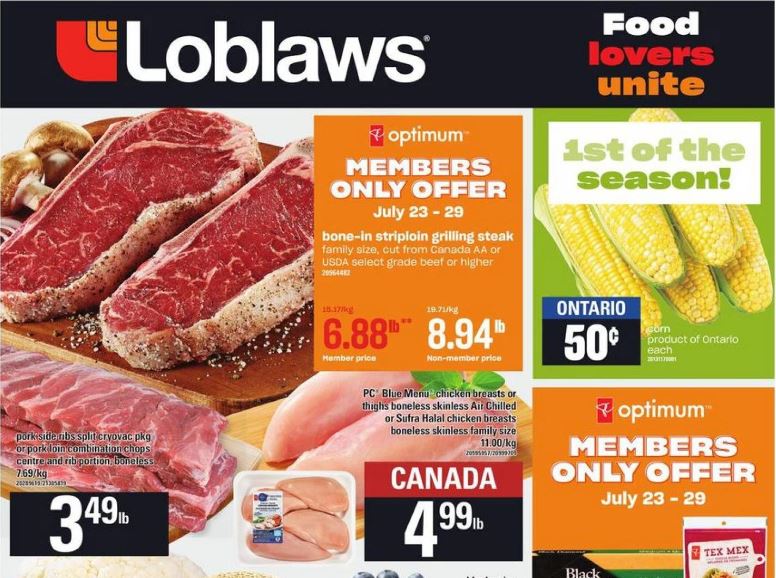 The Loblaws Ontario flyer has several PC Optimum offers this week in addition to many great sale prices. These offers are typically the same in other Loblaws banner store flyers, such as Zehrs and Independent. Check your flyers to see if these apply there as well. Here's a summary of what's advertised this week:
Ontario Corn 50 cents each
Bone-In Striploin Grilling Steak $6.88 a pound PC Optimum Member Only Offer
Black Diamond Cheese, Galbani Cheese Bars, or PC or No Name Shredded Cheese $3.99 PC Optimum Member Only Offer
Starbucks K Cups, Starbucks Roast & Ground or Whole Bean Coffee, or DAVIDs TEA $7.99 + 2000 PC Optimum Points
Danone Activia or Yoplait Source Yogurt 12/16 pack, Liberte or Danone Oikos Greek Yogurt 750g $4.99 + 500 PC Optimum Points
3000 PC Optimum Points for every $15 spent on Mars Pet Food
3000 PC Optimum Points for every $10 spent on Oasis Refrigerated Juice or Smoothies, Arizona Blend ice tea, or Fruite Beverages
Buy two Tim Hortons Instant Coffee or K Cups and get 2000 PC Optimum points
KFI Cooking Sauce $3.99 + 1000 PC Optimum points
Click here to view the flyer on our forum.