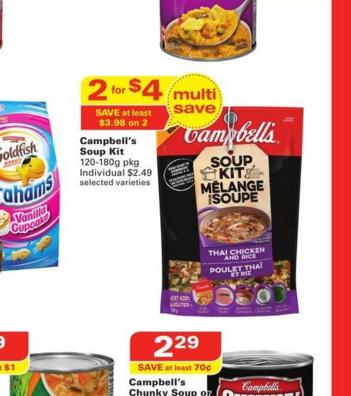 If you received your copy of the latest SmartSource insert with your flyers this week, then you will notice the coupon inside the insert for $2.50 off Campbell's Soup Kits. Longo's Ontario has the soup kits advertised for the price of 2/$4. Use your coupon and get the kit free!
This is a multi buy deal at Longo's. so the price for one package is $2.49, which is still free with your coupon. If you are able to price match this offer at Walmart you will receive 50 cents overage per package bought and coupon used.
Or,some have mentioned various Loblaws banner stores having unadvertised deals on the soup kits, some even having them on for $2, with a bonus of 2000 PC Plus points! The points alone make it free, so if you are able to score this deal there with the coupons you can turn this into a money maker. I did check Real Canadian Superstore and Fortinos near me and ther are regular price with no bonus PC Plus points, but maybe you will have better luck.
Click here to view this offer in the Longo's Ontario flyer, valid March 18th to 31st.