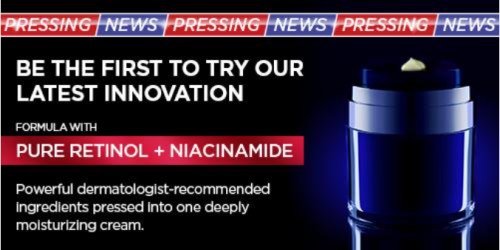 L'Oreal Canada has introduced a new product from their Revitalift line, and for a limited time you can register for a chance to try this new product.
Their latest Revitalift product is the Pressed Night Cream, containing pure retinol and niacinamide. I regularly use the serum and it's one of my favourite skincare products, so I'm really looking forward to trying this new product.
If you would like to sign up for the chance to try this product you can click the link below and supply your email address. You will be contacted by email if you are chosen to try the product, although no time frame is given so be sure to check your junk mail regularly after you sign up.
Click here to register for the opportunity to try the new L'Oreal Revitalift Pressed Night Cream.