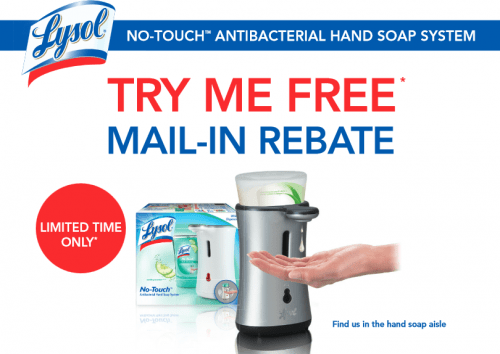 For a limited time only you will be able to get a FREE Lysol No Touch Antibacterial Hand Soap System after mail in rebates! What an incredible freebie!
Purchase any Lysol No Touch Hand Soap System and receive up to $17.65 in mail in rebates to cover the cost of the product, plus taxes and postage. Limited to one refund per individual, family or household. To get your refund by mail, complete The Official Refund Form Here, attach the original dated receipt from purchasing your Lysol No Touch Hand Soap System with the price circled and the UPC code hand written on the receipt. You must purchase your Lysol No Touch Hand Soap System between December 11th to December 31th 2013 to qualify for this offer.
Get your FREE Lysol No-Touch AntiBacterial Hand Soap System by filling in this form and following the directions.