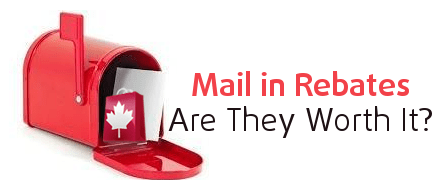 Mail in Rebates can get you free items, but there is some risk attached.
I like using mail-in-rebates to lower my out of pocket cost on days when you can earn points for spending (like 20x bonus Optimum points).   While many are credited without issue, some are very slow or the rebate never arrives.  A couple have also been declined because the receipt did not clearly show it was that particular item despite the UPC being attached to the rebate form, so you have to be really careful in following the rebate instructions.
Some tips:
Make sure you are following the exact terms of the rebate (size, type etc)
Make sure you buy and send the rebate form within the dates given
Check if it is one per person, per household or if you are excluded by taking part in another mail in rebate from the company
Buy all of the items needed on one receipt if necessary
Make sure you take a photocopy of the receipt and form
Get the envelope postmarked at the Post Office in case it arrives late
Do you find rebates worthwhile? What is the best item you have bought for a rebate?
This blog is part of our New to SmartCanucks series, click here to read more blog posts in the series