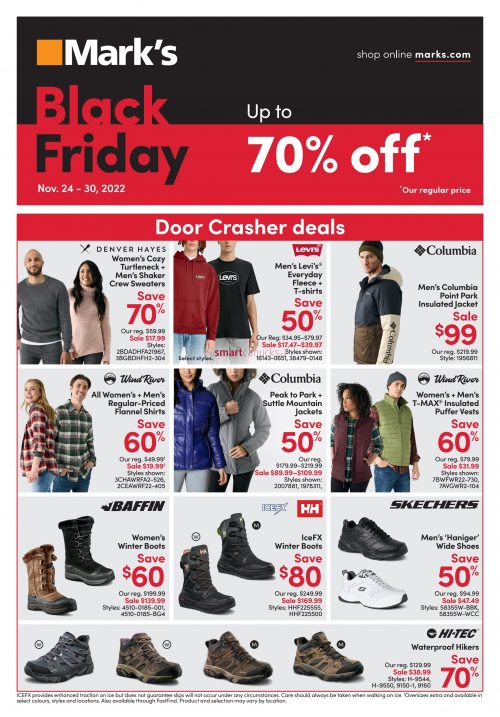 Save up to 70% during the Mark's Canada Black Friday sale November 24th – 30th. There are plenty of deals and doorcrashers to shop both in-store and online, and here are some of the offers from the flyer:
Denver Hayes Women's Cozy Turtlenecks and Men's Shaker Crew Sweaters 70% off (now $17.99)
Men's Columbia Point Park Insulated Jacket $99 (regular $219.99)
Men's Bench Ultra-Light Packable Insulated Jacket $69 (regular $169.99)
Men's Point Zero Insulated Bomber Jacket $99.99 (regular $219.99)
Men's Denver Hayes Turtlenecks B1G1 FREE (regular $24.99)
Save 40% on all Men's and Women's Regular Price Jeans
All Men's Denver Hayes 4-Way Stretch Pants 70% off (now $23.99)
Women's Shambhala Live-In Warmth Wellness Leggings 70% off (now $20.99)
Denver Hayes Women's Curve-Tech Tummy Control Leggings 60% off (now $19.99)
Denver Hayes Women's Bags 40% off
Matching Family PJ's 40% off
Women's Holiday Leggings $10 (regular $19.99)
Wind River Slippers 40% off
Make sure you are signed up for Triangle Rewards and activate your offers before you shop! You will almost always have a spend offer for Mark's, and specific product offers like men's jeans, women's tops, etc. There is also the option to swap offers, so you may be able to choose offers for items you might buy. Triangle Rewards offers all stack. If you have two spend offers for Mark's these will stack as long as you spend the amount required for each, and those offers stack with product offers.
Click here to view the Mark's Black Friday flyer