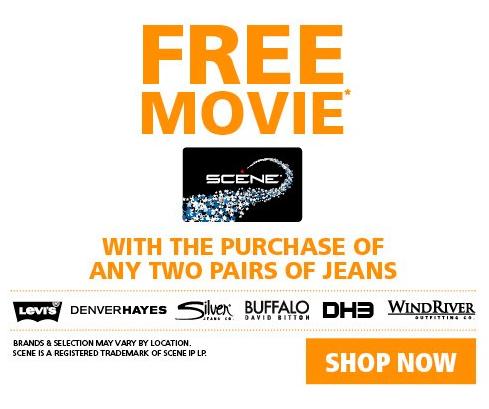 Here is a great new limited time offer from Mark's Canada and SCENE. Purchase any pair of jeans from Mark's Canada, and you will receive 500 SCENE points. Purchase two pairs of jeans, and you will receive a total of 1000 SCENE points, enough for a free movie! This offer is valid both in store and online. Of course selection will vary from store to store, but if you choose to shop online, there are four different styles of women's Denver Hayes jeans available on clearance for just $14.88, and these are eligible for the SCENE points promotion. So, two pairs of jeans and a free movie for just $29.76 plus taxes!
Carhartt jeans are excluded from the promotion, but all other brands are included. There are men's Wind River jeans starting at just $24.99 as well, and some women's Buffalo jeans on clearance. Both qualify for the promotion.
Click here to shop Mark's Canada online.