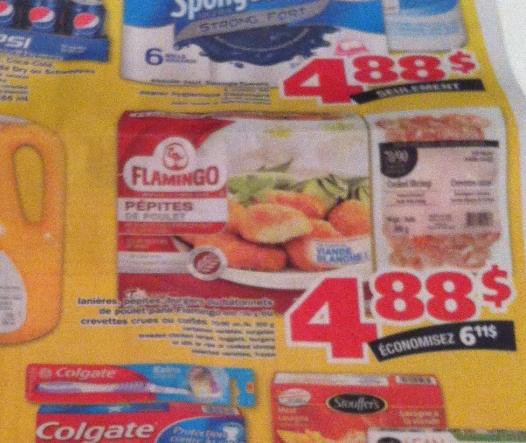 There are more free meat deals this year than I can ever recall, so let's keep the ball rolling with this amazing deal from Maxi Quebec next week! From March the 3rd to the 9th, Maxi Quebec has Flamingo frozen chicken products on sale for $4.88. You may have in your possession, or may have heard about, a tear pad coupon for $5 off select Flamingo chicken. Use this tear pad, or quickly run out and find it if you don't have it, and get the chicken for free!
The coupon does state size restrictions, and although I cannot make out the fine print in this ad, it looks like a wide assortment of Flamingo products are included. Just make sure what you are purchasing matches what is specified on the coupon. Also, I don't know how Maxi is with coupons that exceed the value of the item, but if you think this may be an issue, you can also price match elsewhere.
Click here to view this deal in the Maxi Quebec flyer, valid March the 3rd to the 9th.