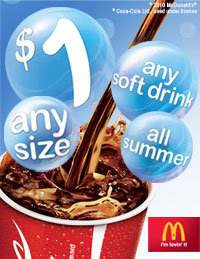 McDonald's Dollar Drink Days are back! From April 19 to September 6th get any sized soft drink for only ONE DOLLAR! This includes the iced coffee! Mmmnnnn.
This was SO handy whenever my kids were spontaneously thirsty in the car… or when I got a crazy craving for an Iced Tea in the hot weather!
Thanks cesme77 for the heads up on this deal.
Happy Sugary Drink Sipping! 🙂
Bumping up because it starts today!