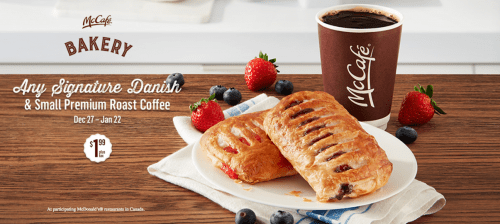 Good morning 🙂 Happy Tuesday! Here's a sweet deal from McDonald's McCafé and Bakery out right now! Enjoy any signature danish and small premium roast coffee for only $1.99 plus tax. Medium or large coffee is available for an up charge. This promotion is available at participating McDonald's restaurants in Canada until Sunday, January 22, 2017 only.
Also, McDonald's Canada has some great coupons for the month of January, 2017. The prices advertised may vary depending on your province. These coupons at McDonald's will expire on Monday, February 5, 2017.
Click here to print out the coupons from McDonald's Canada.
Click here to find McDonald's restaurant Canada near you.