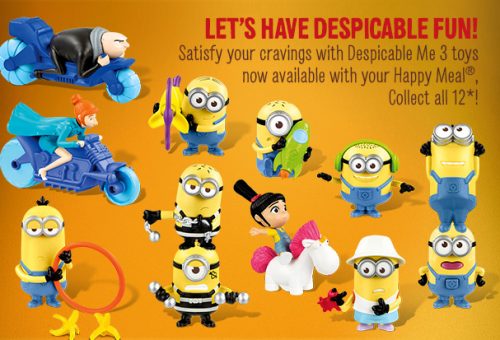 The Minions are coming back! Timed with the opening of the new Despicable Me 3 movie, which opened in most theatres this past June 30th, 2017, McDonald's Canada has decided to bring back a whole new set of Minions toys to their Happy Meals.
There are 12 new toys to collect in your Happy Meal, most of which feature a popular Minion character or someone like Gru or Lucy riding a motorcycle.
Despicable Me 3 follows Gru, a bad-guy gone good-guy, who is reunited with his long lost twin brother, Dru. Gru, being a recently reformed villain, no longer shares the interest in criminality with his brother, but Dru is determined to convince his twin that one last heist would be well worth their while.
If you and the family are at all Minions fans and would like to pair your Happy Meal with a screening of Despicable Me 3, you can check out times for the movie here on Cinema Clock.
These toys at McDonald's Canada will only be around for the summertime, or while supplies is in-stock.
Click here to find the nearest McDonald's Canada to you.