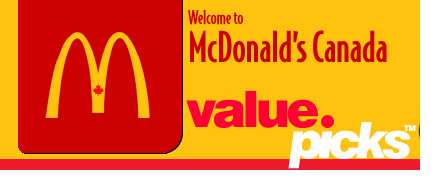 Thanks to Tammy and Steve for pointing out that Mcdeals are over 🙂
Starting from today McDonald's Canada has the new McDonalds Value Picks: For $1.39 you can get your choice of the following:
Junior Chicken
Bacon Cheeseburger
Double Cheeseburger
2 Apple Pies
Coffee + Muffin
Or you can order the meal to include fries and a pop for $3.99.
This list is not complete. Please let me know of the value picks in your local store and I'll update this list.