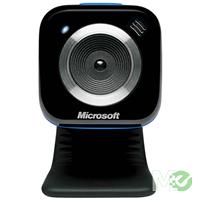 Memory Express has the Microsoft LifeCam VX-5000 Web Cam on sale for $9.99 (save $30). Shipping is extra, or if you have a store nearby you can pick it up in store for free.
If you don't have a store near you could also try to price match NCIX and pick up in store there.
Product Features
Flexible Universal Attachment Base Stand:
With the unique, flexible Web Cam Base Stand, you can place the VX-5000 almost anywhere and know it will stay put
World-Class VGA Optics:
Your view is always amazing, and in focus at all times; auto-adjusts for low light conditions
Crystal-clear Audio:
Automatic audio control for enhanced clarity from Noise Cancelling Microphone
Video Conversation Feature:
Windows Live Call button delivers one touch access to video conversation. Photo Swap allows you to share and swap photos during a live video call
Webcam Controls and Effects:
LifeCam Dashboard provides access to animated video special effect features and webcam controls to make things interesting and fun
Blogging Feature:
Add photos to Windows Live Spaces with a simple, single mouse click
OEM Edition
This VX-5000 Web Cam is OEM and comes without any packaging at a reduced price.