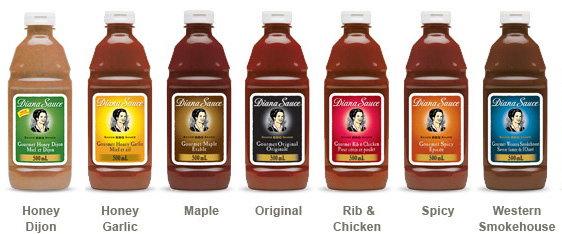 Until July the 27th, Metro Ontario has Diana Sauce on sale for $1.99. Use the printable coupon from Kraft Canada that was available a short while ago, and pay just $1.24 per bottle.
Bullseye BBQ Sauce is on sale for $1 at No Frills this week which is of course cheaper, but Diana Sauce has rarely ever had a coupon that can be used on it, so $1.25 is an excellent price. Sadly the coupon is no longer available but keep an eye on the Kraft Canada coupon portal as coupons tend to pop back up there from time to time, and most are only available for a short while.
You can price match this offer at Walmart, etc., but I find that Metro often has more varieties of the Diana Sauces and Marinades, so if you are looking for flavours beyond the basic Orginal, Chicken Rib, and Honey Garlic, you may want to head to Metro.
Click here to view the Metro Ontario flyer valid until July the 27th, 2016.