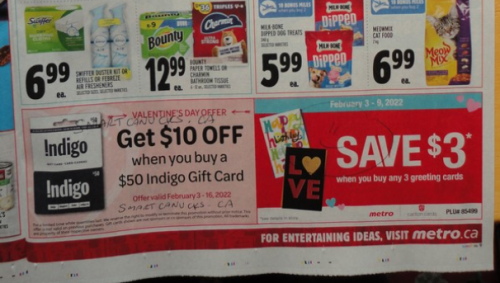 If you are looking for Valentine's Day gift ideas, Metro Ontario has a great gift card promotion that begins Thursday, valid on Indigo gift cards. From February the 3rd to the 16th, get $10 off when you buy a $50 gift Indigo gift card.
This would make a great gift for someone who shops there, or you could purchase the cards to buy a gift from Indigo if you don't want to give the cards as gifts. This is also a great time to purchase some of these discounted gift cards for yourself if you have a use for them.
I can't read the fine print on this offer, but if you are purchasing multiple cards you may have to buy them in separate transactions. Make sure to read the complete details when you get the chance. If you also need Valentine's day cards you can pick those up at Metro and save $3 on the purchase of Valentine's or any other greeting cards.
Click here to view these offers in the Metro Ontario flyer.