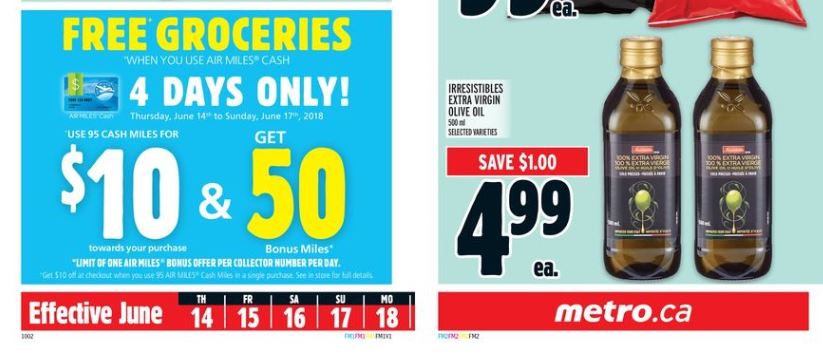 Metro Ontario has a great promotion for Air Miles collectors for 4 days this week, beginning Thursday, June the 14th, until the 17th. During these four days, redeem 95 cash miles for $10 off your purchase, and get 50 bonus Air Miles reward miles.
Essentially you are getting $5 back when you redeem $10, so you more or less have only used $5 worth of your Airmiles, instead of $10. If you have Air Miles to use that you were awarded from the Mega Miles promotion, this is a great way to redeem them. Keep in mind though that this promotion is limited to one redemption per collector card per day. You can take advantage of this promotion four times in total if you visit a Metro location daily.
If you want to maximize this offer, you can purchase items that have bonus Air Miles attached to them, such as the Activia and Oikos yogurt advertised on the last page of the flyer for $3.49 each, with a bonus or 20 bonus Air Miles when you buy two.  If you included two in your $10 redemption this would give you 70 Air Miles back.