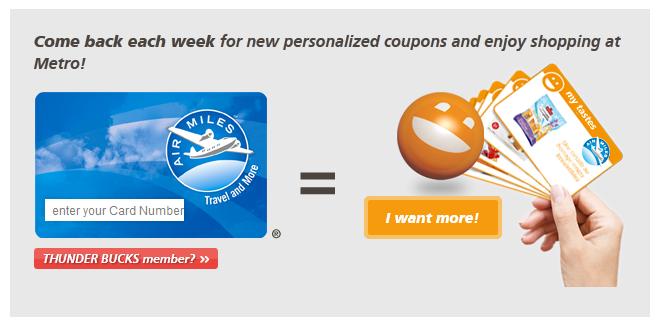 Metro Ontario has new personalized bonus Air Miles coupons and weekly printable coupons available through their website. The following eight coupons can be printed and are valid until June 13th, 2013, and on June 14th a new set of coupons will be available:
Save $2 on Tide Liquid
Save $2 on 3 Bick's Pickles or Bick's Products 750ml- 1L
Save $1.50 on Orville Redenbacher's Microwave Popcorn
Save $1 on Coca-Cola, Diet Coca-Cola, Sprite, Coke Zero, Canada Dry
Save $2 on Villaggio bread and rolls
Save $1 on Campbell's Chunky Soup
Save $1 on Selection Frozen Dessert, Sorbet or Frozen Novelties
Save $2 on 2 Villaggio products
Upon entering your Air Miles collector number, you will receive three personalized bonus Air Miles coupons. Click here to print these coupons and to view your personalized offers.