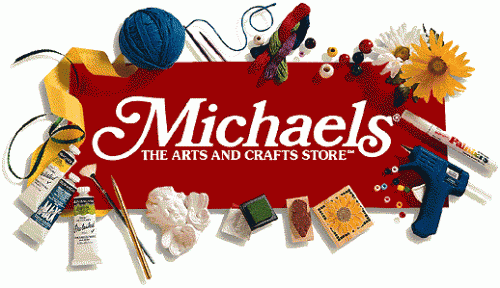 Every week Michael's Canada released new sales, deals and printable coupons. We have an early sneak peak at this upcoming week of Sales and Deals! The below Michael's Canada Offers will be valid throughout Canada (excluding Quebec) from May 23rd through to May 29th, 2014. When it comes to the coupons, you can either print them or show them to the cashier on your mobile device.
4 Day Doorbusters: Friday – Monday:
$4.99 for 5 x 7 – 9 x 12 Artist's Loft Value PAcks
$5.99 for 8 x 10 Trendsetter Black Poster Frames and Lifestyle Black Wall Frames
$7.50 for 12 x 12 Hot Buy Paper Packs
$3.99 for 12 x 12 Iris Scrapbook Case
6 for $10 Photo Boxes
$1.49 Imagin8 Solid Color Flip Flops
Tuesday and Wednesday Doorbusters:
50% Off Baskets
50% Off Scrapbook Albums
40% Off Craft Storage
Thursday Doorbusters:
2 for $10 Bead Gallery Strung Beads Green Label
60% Off Ashland Spring Stems and Bushes
60% Off Spring Decorative Boxes
Featured Michael's Arts and Crafts Canada Deals:
40% Off Ashland Summer Bushes and Garlands
50% Off Ashland Summer Living
50% Off Home and Platinum Wall Frames
40% Off Expressions Tabletop Frames
3 for $1 12 x 12 Open Stock Paper
40% Off Graduation and Document Frames
40% Off Graduation Albums
50% Off Ashland Garden Collection
40% Off Handcrafted Floral Arrangements
50% off Ashland ome Collection
40% off Ashland Confetti Garden Candle Collection
The Original Rainbow Loom $16.99
40% Off Creatology Playroom and Craftivities Value Pack Crafts
40% Off Scrapbook Paper Pads
Buy Two Get One FREE Rubber, Clear, and Cling Stamps
40% Off Artist's Loft Gallery Wrapped Canvas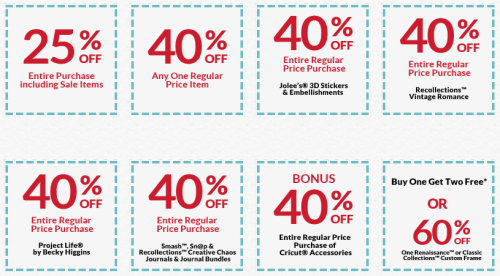 This Week's Michael's Canada Coupons available:
25% Off Entire Purchase Including Sales Items
40% Off Any One Regular Price Item
40% Off Entire Regular Price Purchase of Jolee's 3D Stickers & Embellishments
40% Off Entire Regular Price Purchase Recollections Vintage Romance
40% Off Entire Regular Price Purchase Project Life by Becky Higgins
40% Off Entire Regular Price Purchase of Smas, Snap and Recollections Creative Chaos Journals and Journal Bundles
Bonus 40% Entire Regular Price Purchase of Cricut Accessories
Buy One Get Two FREE or 60% Off One Renaissance or Classic Collections Custom Frame
Click here to check out this Week of Michael's Canada Sales, Deals and Printable Coupons!