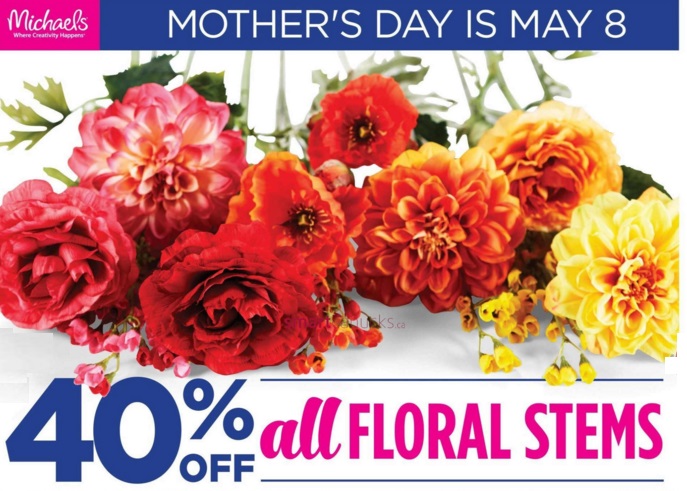 Still haven't picked up something for mom yet? Shop with Michaels weekly coupons and deals to help save on arts and crafts supplies to personalize your gift. This week's deals and coupons savings starts today, Friday, April 29, 2016 until Thursday, May 5, 2016, and only on select brands and collections only
This week's coupons from Michaels Canada include:
Save 40% off one regular price item
Save 40% off regular price stickers, washi tape and embellishments by Recollections
Save 40% off Hampton and Oxford Street custom frame collections
Terms and conditions apply.
Use these new coupons to pick up supplies for Michael's art classes, or if the class includes supplies already, pick up supplies  so you can recreate what you learned from home.
This week's class specials include:
Tuesday, May 3  (6:30 – 8:30 pm): FREE Cookie Decorating Class (Cookie Blossom, supplies not included)
Saturday, May 7  (10 – NOON): Tissue paper flowers ($2 per project, supplies included. For kids ages 3+)
Saturday, May 7 (1 – 3pm): FREE Mother's Day Card and Bracelets (SUPPLIED INCLUDED)
Classes may vary depending on store location.
Other new deals from Michaels this week include:
40% off Made with Love Kits by Celebrate It
40% off ceramic mug kits with paints by Celebrate It
40% of canvas painting kits by Artist's Loft
40% off Stepping Stone Kits by Celebrate It
Buy 1, get 1 50% off summer kits and crafts by Creatology Camo
30% off Bits and Baubles by Bead Landing
30% off Charmalong charm shop by Bead Landing
Buy 2, get 1 free baking supplies by Cake Boss, Celebrate It, and Wilton
Buy 2, get 1 free backyard and splash fun by Creatolgy
Click here to get your coupons from Michaels Canada.
Click here to see all of Michaels Canada new deals.
Click here to view Michaels Arts And Crafts Canada new flyers