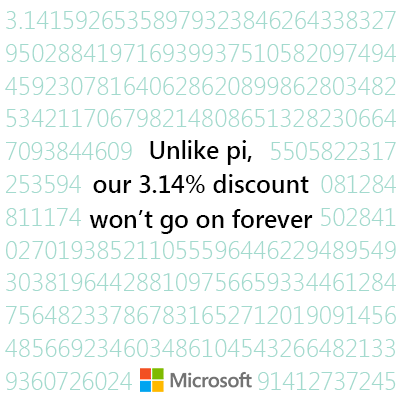 Remember Pi? It's the mathematical constant 3.14159… that brought along many troubles to math class. Well, today is Pi Day (3/14)! Microsoft Canada is celebrating Pi Day with an amazing sale on PCs. Starting today you can save 31.4% off many PCs! Here are some of the hot PC deals going on:
save $376.49 off Dell Inspiron 13 (i7-7500U/8GB/256GB/FHD)
save $297.99 off Dell Inspiron 15 (A12/12GB/1TB)
save $475.66 off Dell Inspiron 15 7000 series, 7559
save $284.70 off Dell Inspiron 15 5000 (i7/8GB/1TB)
You can also save $314 with purchase of select Surface Pro 4 and ARC Touch Mouse.
These Pi Day deals end on March 28 2017.
Microsoft Canada offers FREE shipping on ALL orders, as well as free returns.