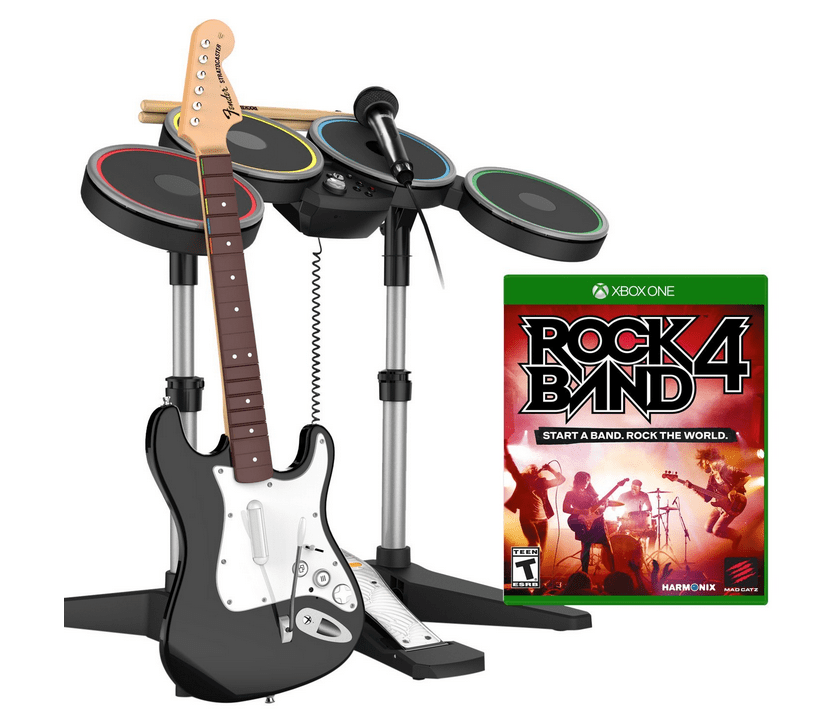 Rock Band 4 is about to hit store shelves in just a few weeks, and the Microsoft Store Canada is offering a great deal if you haven't already pre-ordered your copy for Xbox One. Head online to the Microsoft Store now and you could save up to $100 off your purchase of Rock Band 4 Bundles for Xbox One! Not only are the prices for the Rock Band 4 bundle cheaper when compared to other stores, but Microsoft is also adding a free $20Xbox  gift card with your purchase!
Deals available include:
If you haven't already pre-ordered your copy of the game, this is a great chance to save on a last minute pre-order as it's much more affordable than other stores. It seems as though this is also the US price of the bundle and Microsoft hasn't yet adjusted it to account for the low Canadian Dollar, so you may want to pick it up just in case it gets adjusted soon! Some of the other retailers are bundling this game with bonus songs, but with this bundle from Microsoft, you can save up to $100 and get a bonus $20 Xbox gift card that you use towards your purchase of your favourite songs!
Rock Band 4 delivers the ecstatic rush of a live band performance like never before. In this latest edition, you can play alone or with friends and live out your rock fantasies! This game includes over 65 new songs from rock's biggest names and grants you access to thousands of extra songs spanning all genres of rock in the Rock Band Music Store. You can also import your previously purchased Rock Band music library into Rock Band 4 for free!
This offer is on for a limited time only. Rock Band 4 is released on October 6, 2015. Shipping is free from the Microsoft Store.
Click here to view more offers from the Microsoft Store Canada.