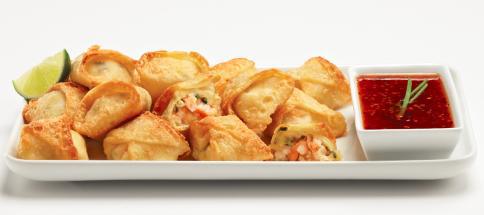 M&M Meat Shops Canada is giving away a coupon on their Facebook page where you can save $3 off the regular price of their frozen product Shrimp Rangoons. This offer will only be available until January 7th and to claim it you will have to go to the Facebook page and click 'get offer' after which an e-mail will be sent to your address that you use for Facebook (don't worry, they won't share any of your information!).
Once you've received your e-mail from M&M Meat Shops you will have a coupon in your e-mail that you have the choice to either print-out and present when paying, or to show on your mobile device. There will be a limit of 2 Shrimp Rangoons per customer, and the discount will only be applied to the person's name listed in the e-mail. Since Shrimp Rangoons normally cost you $11.99, with the savings coupon you could pay only $17.98 for $23.98 worth of M&M Meat product!
Click here to claim your Shrimp Rangoons coupon from M&M Meat Shops Canada.