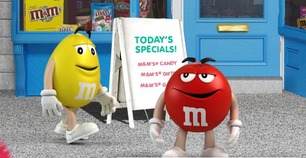 Join the hunt for M&M! It is the "world's most speck-tacular egg hunt!" I came across this website today and it's pretty cute. You need to register first and then you go around the website looking for easter eggs to get coupons to use on M&M's.
To locate the eggs, hover over the arrows on the sides of the screen to go left and right, up and down on the map. Then, when you find a hidden egg, click on it and enter the secret word. Once you find all 16, you will be mailed a coupon for Buy 1, Get 1 Free on your next purchase of M&Ms 383g chocolates!
Here are some of the locations:
– Egg in pink flower bed
– Egg in grass underneath flower bed
– Egg under park bench by newspaper
– Egg in right window of Candy Shoppe
– Egg in left window of Candy Shoppe
– Hover to the top of the screen, Egg at the top of the Candy Shopper on the window
– Egg by turnabout in playground
I am looking for my last egg and it's driving me crazy! I can't find it. This does take some time. Ahhh I found it! 🙂
Click here to join the hunt!