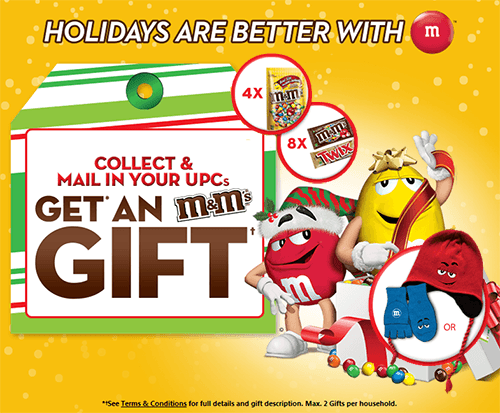 Mars has a new promotion for a free M&Ms themed toque or mittens with mail in rebate and UPCs from four to eight participating products.
Mail in proof of purchases (original UPC codes) along with your name and full address ( Street, City, Province and Postal Code) on a 5X5 inch sheet of paper to the following address: HOLIDAYS ARE BETTER WITH M Promotion Gift Offer, PO Box 300, Mississauga, Ontario, L4T 3B6.  There is a maximum of two gifts per household and you cannot choose between the toque or gloves, they will be randomly chosen.   If you do want to complete your set, you can check out mmsworld.com.
Participating products are not specially marked, so you can buy any of the products listed below on sale or price-match to get a better deal without worrying about finding specially marked packaging.  Click here for full information.
Collect 4 UPCs from the following products:
Mars Canada Inc. Share And Go Packs: M&m's® Milk Chocolate (120g), M&m's® Peanut (120g), M&m's® Almond (124g), M&m's® Pretzel (92g), M&m's® Peanut Butter (144g), Maltesers® (100g), Snickers® Minis (124g), Snickers® Bites 130g)
Bowl Size Packs: M&m's® Milk Chocolate (400g), M&m's® Peanut (400g), M&m's® Peanut Butter (400g), M&m's® Pretzel (324g), Maltesers® (324g)
Take Home Size: M&m's® Milk Chocolate (200g), M&m's® Peanut (200g), M&m's® Dark Chocolate (230g), M&m's® Peanut Butter (230g), M&m's® Pretzel(162g)
M&m's® Dark Chocolate Peanut (230g), Maltesers® (165g), Snickers® Bites (230g)
or collect 8 UPCs from the following
Mars Singles Packs: Mars® Bar (52g) Mars® Dark Bar (50g) Mars® Caramel Bar (45g) M&m's Minis® (30g) M&m's® Milk Chocolate (48g) M&m's® Peanut (49g) M&m's® Peanut Butter (46g) M&m's® Pretzel (32g) Snickers® Bar (52g) Snickers® Bar With Almonds (50g) Snickers® Peanut Butter (50g) Twix® Cookie Bar (50g) Twix® Peanut Butter (47g) Maltesers® (37g) Bounty® (57g) Bounty® Dark (57g) 3 Musketeers® (54g)
Sharable Packs Mars® 2 Pack (85g) Mars® Caramel 2 Pack (70g) Snickers® 2 Pack (93g) Snickers® Peanut Butter 4 Pack (100g) Snickers® Almond 2 Pack (92g) Twix® 4 Pack (85g) Bounty® 3 Pack (85g) 3 Musketeers® 2 Pack (93g) M&m's Minis® Mega Tube (50g) M&m's® Milk Chocolate Sharing Size (75g) M&m's® Peanut Sharing Size (75g)