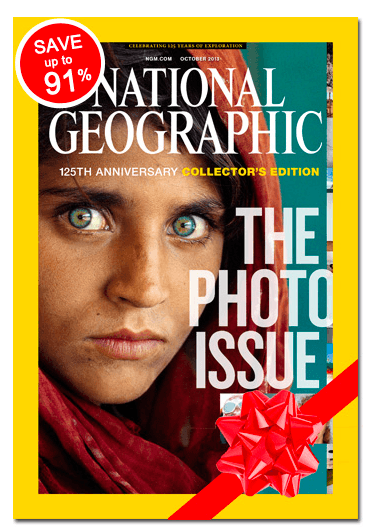 National Geographic Magazine is having their annual holiday sale where, if you're a new subscriber to this scientific magazine which has been published for over one-hundred years, then you could pay as little as $1 per publication for 12 months! The way that this offer works is that you first off have to be a new subscriber, and then to receive the first 12 months for only $1 a magazine, you will have to opt in to subscribing for the digital edition which is available in these formats within Canada:
iPad
iPhone
Kindle (*Not the Kindle Fire, that is only for U.S. residents)
and the online archive

If you wish to get the print edition of National Geographic within Canada, it will cost you $24 for the full-year subscription, meaning each publication will work out to costing you only $2 a magazine.
Alternatively, if you'd like to get the National Geographic Print Plus edition, then you can get it both for yourself and as a gift to a friend and you will both receive the print edition, the digital edition, and gain access to the online archive. This offer is only $26, meaning that each print plus subscription will only cost you $13. 
For a full-year subscription to National Geographic, as a print edition, you would normally pay $79.95 American, which works out to being a value of $91.39 Canadian. If you opt in for the 2 Print Plus Editions, then you would only be paying about 30% of the retail price for a single subscription but you'd be getting two subscriptions.
This is an excellent offer no matter which way you cut it, and will only be available for a limited time.
Click here to get the print or digital edition of National Geographic, or click here to get the National Geographic Print Plus edition for you and a friend.