So tomorrow I'm in charge of bringing the dessert to our first Easter get together. Now I love to bake, and it always tastes great but when it comes to artistic abilities and making it look "pretty" well… I suck. So I was looking around and I found these cute little cupcakes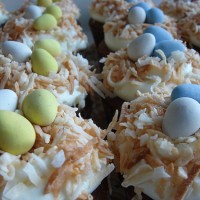 (Source Flickr) Anyways I thought these little "robin's egg nest" cupcakes looked so darling. How hard can they be to decorate. Baked cupcakes butter pecan and swiss chocolate, made some butercream vanilla icing (you can use store bought) toasted up some sweetened coconut and threw on top some Hershey eggies in my own combinations and Voila! I am so happy with the results! Its definitely a hit. Let me know how they turned out for you if you decide to make them as well.
Heres mine: (The kids to try with less icing haha)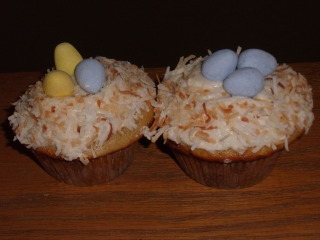 Happy Easter everyone (who celebrates) or Happy Weekend!