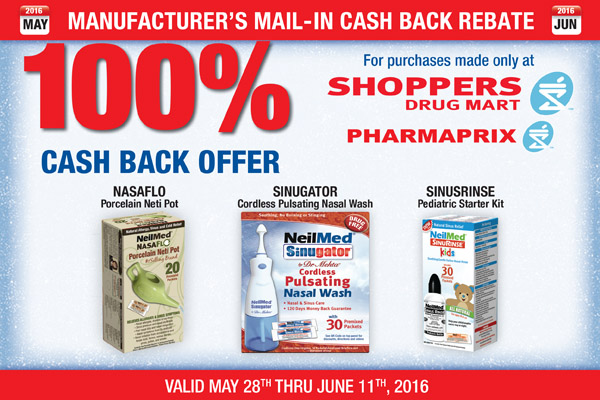 Here is a mail in rebate from NeilMed Pharmaceuticals that is close to it's end date, but it has only been available since May the 28th. You will have until Saturday, June the 11th, to purchase one of three qualifying products from Shoppers Drug Mart Canada, and receive a 100% rebate on the product.
You can purchase one of the following three NeilMed products for this promotion, and they are as follows: Nasaflo Porcelain Neti Pot, Sinugator Cordless Pulsating Nasal Wand, or the Sinurinse Pediatric Starter Kit.
You can mail in receipt to request your rebate if you wish, but you do also have to option of submitting it online, and you can follow those instructions provided by clicking the link below. There is a limit of one rebate per household. If you mail the rebate request it must be postmarked no later than 30 days after the purchase was made, and online submission must be made by June the 25th. You will receive your rebate cheque approximately 30 days later.
Click here for more information.